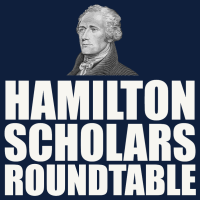 Tuesday, January 11, 2022 | 7:00 PM to 8:00 PM
Celebrate Alexander Hamilton's birthday with a panel discussion featuring Hamilton experts Richard Brookhiser, Doug Hamilton, Stephen F. Knott, Michael E. Newton, Robert E. Wright and others.
This roundtable will touch upon Hamilton's early life, his contributions to the founding of the United States and the establishment of the country's financial system, as well as his enduring legacy.
This panel discussion is presented by the Alexander Hamilton Awareness Society in collaboration with the Museum of American Finance, the Hamilton Partnership for Paterson, Revolutionary NYC, the Saint Andrew's Society for the State of New York, First Families of New York, the Lexington Historical Society, StatutesandStories.com and the Morris-Jumel Mansion.