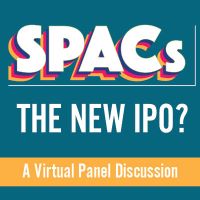 Tuesday, December 7, 2021 | 5:00 PM to 6:15 PM
In this program, industry leaders involved in different aspects of taking companies public will discuss the role of SPACs as an increasingly popular alternative to the more traditional IPO, including:
Addressing upcoming regulatory and legislative scrutiny
Trends in SPAC structures (e.g. anchor investors, trust accounts, redemptions)
Outlook in 2022 and beyond for the SPAC vs. traditional IPO path to the public markets
Alignment of incentives among different constituencies in a SPAC
SPACs as an investment opportunity
The program will begin with a welcome from David Cowen, President & CEO, Museum of American Finance, followed by an introduction to the program by Michael Harris, Head of Capital Markets & Business Development, Citadel Securities. The panel discussion will be moderated by Sonali Basak, Global Wall Street Correspondent for Bloomberg Television, and will feature (see speaker bios here):
Andrew Cohen: Founder & CIO, Difesa Capital Management
E. Ramey Layne: Partner, Vinson & Elkins LLP
David Panton: Managing Partner, SPAC Operations, Navigation Capital Partners, LP
Eklavya Saraf: Global Head of Spac Listings and Managing Director of Listing Services, Nasdaq
Panel discussion will be followed by audience Q&A. This program is FREE, but advance registration is required.
In partnership with the Fordham University Gabelli Center for Global Security Analysis