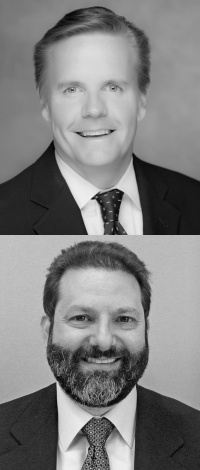 Thursday, October 21, 2021 | 12:00 PM to 1:00 PM
Bob O'Shea was a scrappy kid from New Jersey. His grandmother worked as a maid at the Waldorf Astoria in midtown Manhattan, his father was a New York City cop and he was accepted to Fordham University on a track and field scholarship. O'Shea's success on Wall Street is the epitome of the American dream. He was offered partnership at Goldman Sachs at age 29, making him the second-youngest partner in the firm's history. Then, as a second act, he co-founded Silver Point Capital, a credit and special situations hedge fund, in 2002. He subsequently grew the firm from $120 million in assets under management to $15 billion.
Michael Gatto, an adjunct professor at Fordham, will interview O'Shea about his meteoric rise on Wall Street. Topics will include his career and keys to his success, his views of the current credit markets and his advice for students and young professionals on how to build successful careers in credit.
About the Speakers
Bob O'Shea is co-founder and chairman of Silver Point Capital, a private investment firm focused on credit and special situation investing throughout credit cycles. O'Shea was co-CEO at the firm from 2002 until 2011, at which time he became chairman. Headquartered in Greenwich, Connecticut, the firm has approximately 180 employees, including more than 60 investment professionals.
Prior to founding Silver Point, O'Shea worked at Goldman Sachs for 10 years. He joined Goldman in 1990 to found and build the firm's global bank loan business. During his tenure at Goldman Sachs, in addition to building the global bank loan business, he also became the global head of the high yield business unit, leading the firm's high-yield bond and bank loan underwriting, trading, sales, capital markets and research, and the collateralized debt obligation (CDO) business. O'Shea was a member of Goldman's risk committee, which was responsible for managing the firm's global risk exposure. He was also on the board of Goldman Sachs international bank and senior traders committee. He was elected general partner in 1994. Prior to working at Goldman Sachs, he worked at Bear Stearns in the high yield department and Security Pacific Bank in the Merchant Banking Group.
Michael Gatto was one of the first employees at Silver Point Capital. After joining the firm in April 2002, he became the first non-founding partner in January 2003. He has helped grow the business from $120 million of assets under management in 2002 to approximately $13.5 billion currently. Today, he is the head of the firm's private side businesses. Prior to joining Silver Point, Gatto worked at Goldman Sachs as a senior member within the special situations investing business. Outside of Silver Point, Gatto is an adjunct professor at Columbia Business School and Fordham University's Gabelli School of Business, where he teaches courses on credit analysis, as well as distressed value and special situation investing.
This program is FREE, but advance registration is required. Registered guests will receive the Zoom link prior to the program.
Admission to the Museum's virtual lecture series events is FREE. However, we appreciate contributions of any amount to support these programs. To donate, text "GIVEMOAF" to 44-321.