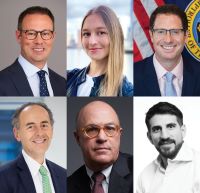 Thursday, September 30, 2021 | 5:00 PM to 6:30 PM
In this program, leaders in the cryptocurrencies market discuss the current state and the future of cryptocurrencies as a major factor in financial markets, including:
-Structural issues: challenges crypto presents to the payments and brokerage industries;
-Scaling blockchain to new asset classes: the future of the digital ledger;
-Expanding alternatives for buying, selling, holding digital currencies;
-Platforms as an alternative investment to direct ownership of digital currencies;
-Factors influencing price fluctuations, including the Elon Musk factor;
-Future of crypto as legal tender: the El Salvador example
The program begins with a welcome from David Cowen, President & CEO, Museum of American Finance, followed by an introduction by Michael Brauneis, Managing Director, Americas Financial Services Leader, Protiviti. The panel discussion is moderated by Camila Russo, Founder of The Defiant, thought leader, author and journalist.
Featured panelists are:
Brian Brooks, Former Comptroller of the Currency
Charles Cascarilla, CEO and Co-Founder, Paxos
J. Christopher Giancarlo, Senior Counsel, Willkie Farr & Gallagher and Former Chairman, US Commodity Futures Trading Commission
Jan van Eck, CEO, VanEck
Panel discussion followed by audience Q&A.
The comments presented in this event do not represent an offer to buy or sell, or a recommendation to buy or sell any of the securities/financial instruments mentioned herein. The information discussed represents the opinion of the presenter(s), but not necessarily those of VanEck or any of the individual companies represented.