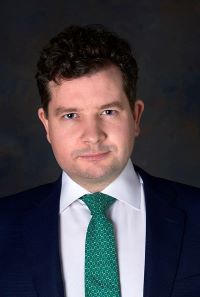 Thursday, June 3, 2021 | 12:00 PM to 1:00 PM
Paul Schmelzing discusses his groundbreaking research on real interest rate dynamics since the beginning of secondary debt markets, the topic of one of his PhD chapters. On the basis of visiting US and European archives over multiple years, he reconstructed global real interest rate series that cover 82% of advanced economy GDP over 700 years, and he argues that our current negative rate environment has actually been in the making for centuries. Mr. Schmelzing explains why investors during the Italian Renaissance could already have predicted that the global economy would hit the "zero lower bound" in our time, why there is no such thing as a "normal" or "steady state" interest rate – and what the chances are that the major recent fiscal and monetary stimuli will now trigger a structural break from the low inflation, low rate era.
Following Mr. Schmelzing's presentation, James Grant and Richard Sylla lead a discussion on the history of interest rates and take questions from the audience.
About the Speakers
Paul Schmelzing is currently a postdoctoral research associate at the Yale School of Management, and since 2016 a visiting researcher at the Bank of England. He graduated with a PhD in History from Harvard University in 2019 and a BSc in Economic History from the London School of Economics in 2013. During his studies, he also interned at a global macro hedge fund, Goldman Sachs' global markets division and the Finance Committee of the German Bundestag. At Harvard, he also worked as a research assistant for Carmen Reinhart and Kenneth Rogoff. Besides long-run real interest rate trends, his current research projects focus on central bank balance sheet trends, and banking crises interventions.
James Grant, financial journalist and historian, is the founder and editor of Grant's Interest Rate Observer, a twice-monthly journal of the investment markets. He is the author of nine books, most of which pertain to finance or financial history. His book, The Forgotten Depression, 1921: The Crash that Cured Itself, a history of America's last governmentally unmedicated business-cycle downturn, won the 2015 Hayek Prize of the Manhattan Institute for Policy Research. Bagehot: The Life and Times of the Greatest Victorian, a biography of the muse of modern central banking, was published in 2019. His television appearances include "60 Minutes," "The Charlie Rose Show," "CBS Evening News" and a 10-year stint on "Wall Street Week." Mr. Grant is a Phi Beta Kappa alumnus of Indiana University. He earned a master's degree in international relations from Columbia University, began his career in journalism in 1972 at the Baltimore Sun and joined the staff of Barron's in 1975.
Dr. Richard Sylla is professor emeritus of Economics and the former Henry Kaufman Professor of the History of Financial Institutions and Markets at New York University Stern School of Business. He is the author of several books, including Alexander Hamilton: The Illustrated Biography, Genealogy of American Finance, The American Capital Market and A History of Interest Rates. His writing has appeared in numerous publications, including the Journal of Economic History, Explorations in Economic History, Small Business and American Life: A History and Business and Economic History. He has served on the editorial board of many journals that include Enterprise and Society, Economic and Financial History Abstracts, and the Museum's quarterly magazine, Financial History. He served as President of the Economic History Association and the Business History Conference. He has been a member of the Museum's Board of Trustees since 2004 and served as Chairman of the Board from 2010-2020. In 2012, Dr. Sylla was elected a Fellow in the American Academy of Arts & Sciences.
This program is FREE, but advance registration is required. Registered guests will receive the Zoom link prior to the program.
Admission to the Museum's virtual lecture series events is FREE. However, we appreciate contributions of any amount to support these programs. To donate, text "GIVEMOAF" to 44-321.