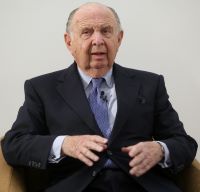 Tuesday, May 18, 2021 | 12:00 PM to 1:00 PM
As we emerge from a global pandemic and a period of economic stagnation, we can look to the past to gain inspiration for better times ahead. 1982 was a year that marked the start of almost four decades of US economic growth. However, this classic Wall Street story has never been fully told until now. In his latest book, The Day the Markets Roared: How a 1982 Forecast Sparked a Global Bull Market (Matt Holt Books, an imprint of Benbella books; April 6, 2021), legendary economist Dr. Henry Kaufman tells his first-hand account of one remarkable day in financial and economic history.
After painful years of high interest rates and the inflation of the late 1960s and 1970s, consumers were paying 17% and higher to borrow money. But by the end of one summer day almost 40 years ago, the stock market had undergone its second-biggest rally since WWII, while bond prices soared and interest rates plunged. Dr. Kaufman himself had written a memo that sparked this tremendous boom, and it set the global markets on fire. The Day the Markets Roared features a rich cast of characters, from Salomon's John Gutfreund to interest rate guru Sydney Homer, to Dr. Kaufman's longtime friend, Fed Chairman Paul Volcker.
About the Speaker
Henry Kaufman is president of Henry Kaufman & Company, Inc., a firm established in April 1988, specializing in economic and financial consulting. For the previous 26 years, he was with Salomon Brothers Inc, where he was managing director, member of the Executive Committee and in charge of the firm's four research departments. He was also a vice chairman of the parent company, Salomon Inc. Before joining Salomon Brothers, Dr. Kaufman was in commercial banking and served as an economist at the Federal Reserve Bank of New York.
Dr. Kaufman received a BA in economics from New York University, an MS in finance from Columbia University and a Ph.D. in banking and finance from the NYU Graduate School of Business Administration. He also received an honorary Doctor of Laws degree from NYU and honorary Doctor of Humane Letters degrees from Yeshiva University and Trinity College. Dr. Kaufman's latest book, The Day the Markets Roared, will be released in April 2021. Prior to that, he wrote Tectonic Shifts in Financial Markets (2017), The Road to Financial Reformation (2009) and On Money and Markets, A Wall Street Memoir (2000). In 1987, Dr. Kaufman was awarded the first George S. Eccles Prize for excellence in economic writing from the Columbia Business School for his book, Interest Rates, the Markets, and the New Financial World.
Admission to the Museum's virtual lecture series events is FREE. However, we appreciate contributions of any amount to support these programs. To donate, text "GIVEMOAF" to 44-321.