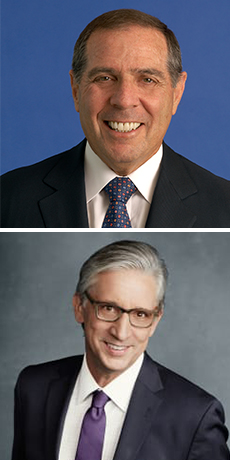 Thursday, May 6, 2021 | 12:00 PM to 1:00 PM
In this program, Wall Street legend Peter Cohen is interviewed by CNBC Senior Markets Correspondent Bob Pisani. Peter's 50-year career spans monumental changes in the landscape of the American capital markets. From leading a storied Wall Street firm during the historic buyout war over RJR Nabisco, which was documented in the book and movie Barbarians at the Gate, to having a ring-side seat to a dozen crises, panics and crashes, Peter brings perspective and insight to today's markets. He has a passion for financial history and sees a need for Wall Street professionals to know their past to be better prepared for their future.
About the Speakers
Peter Cohen is the Founder of Peter Cohen LLC, an investment platform with holdings in technology and biotechnology companies, as well as an arbitrage fund. He is also Chair and CEO of Andover National Corporation, an investment company specializing in environmental services businesses. He is the former Chair and CEO of Cowen, Inc., former Chair and CEO of Shearson Lehman and the Founder of Ramius Capital. He has served on the boards of numerous prestigious institutions and is currently Lead Director of Scientific Games Corporation, as well as Chair of the Museum of American Finance.
Bob Pisani is Senior Markets Correspondent for CNBC. A CNBC reporter since 1990, Pisani has covered Wall Street and the stock market for nearly 20 years. He covered the real estate market for CNBC from 1990-1995, then moved on to cover corporate management issues before becoming Stocks Correspondent in 1997. In addition to covering the global stock market, he also covers initial public offerings (IPOs), exchange-traded funds (ETFs) and financial market structure for CNBC.
Admission to the Museum's virtual lecture series events is FREE. However, we appreciate contributions of any amount to support these programs. To donate, text "GIVEMOAF" to 44-321.