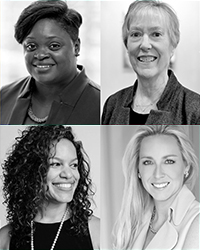 Thursday, April 22, 2021 | 5:30 PM to 6:30 PM
How can women increase their assets under management? Ellen Carr, co-author of Undiversified: The Big Gender Short in Investment Management and principal at a majority-women-owned investment management firm, will moderate a panel of allocators and firm founders to discuss how allocators are identifying female-led firms for clients seeking to engage emerging managers (EM). Wincrest Founder Barbara Ann Bernard will offer solutions to overcoming structural barriers to EM firms.
About the Speakers
Ellen Carr has more than two decades of experience as a high-yield bond portfolio manager, most recently at Weaver C. Barksdale (WCB), a majority-women-owned, institutional-fixed-income investment management firm based in Nashville. She specializes in the construction and management of high-yield and core-plus bond portfolios. Prior to joining WCB, she served as senior vice president and a high-yield portfolio manager for institutional separate accounts and mutual funds for The Capital Group Companies/American Funds in Los Angeles. Along with her high-yield responsibilities, Carr also managed investment-grade corporate and long-duration credit portfolios. She began her career as an investment analyst for the fixed income group at Capital in 1999. Carr has been an adjunct professor of finance at Columbia Business School, where she teaches courses on the credit markets and cash flow modeling, since 2012. She has an MBA from the Kellogg Graduate School of Management at Northwestern University and received her BA from Harvard, where she graduated magna cum laude and Phi Beta Kappa in 1994.
Barbara Ann Bernard is the founder and chief investment officer of Wincrest Capital Ltd. She began her career with Sir John Templeton in the Bahamas before moving to Goldman Sachs and Deutsche Bank in London, followed by Holowesko Partners in the Bahamas. She then launched Wincrest. Bernard was named one of the "Top 50 Women in Hedge Funds" by Ernst & Young and the Hedge Fund Journal, was inducted as a Young Global Leader at the World Economic Forum and is a co-founder of "Variant Perspectives: Women in Investing Conference." She regularly contributes to CNBC's Fast Money program. Bernard chairs United World Colleges Bahamian National Committee and is on the board of the Canadian Lyford Cay Foundation. She is a graduate of the London School of Economics, Li Po Chun United World Colleges of Hong Kong and Lakefield College School in Canada.
Marilyn Freeman is currently the chief strategy officer for Attucks Asset Management LLC, a firm based in Chicago and founded in 2001. The firm specializes in identifying, researching, and building teams of diverse investment talent for its institutional clients, focused on long-only strategies. Freeman was previously a founding partner of Capital Prospects LLC, also a manager-of-emerging-managers firm, which merged with Attucks in January 2020. Prior to the establishment of Capital Prospects as a multiple-manager LLC in 2002, Freeman spent a 24-plus year career at Northern Trust Global Advisors Inc. and its predecessor firms, RCB International Inc. and Rogers, Casey & Barksdale Inc. She has a BA from the State University of New York at Stony Brook, and an MBA from the University of Connecticut. She is a member of Beta Gamma Sigma, the international business honor society. She is also a longstanding member of the Greenwich Roundtable, a nonprofit research and educational organization in the alternatives space.
Wendy Garcia, chief diversity officer in the NYC Comptroller Office, is responsible for increasing contracting opportunities for women- and minority-owned business enterprises (MWBEs) and managing the Comptroller Office's internal supplier diversity initiative, as well as other diversity-related projects across all bureaus of the agency. Garcia also leads the Comptroller's Advisory Council on Economic Growth Through Diversity and Inclusion, a group comprised of national, local, corporate and government experts seeking to increase supplier diversity in the public and private sectors. She earned a master's degree in urban policy and management from New School with a concentration in economic development, and a Bachelor of Arts degree from the University of Delaware.
Jasmine N. Richards joined Cambridge Associates in 2018 as head of diverse manager research to lead the firm's ongoing initiative to identify and research institutional-quality investment managers in all public and private asset classes that have diverse owners or leaders, including women and people of color. A highly experienced investment research executive, Richards has more than 15 years of both buy- and sell-side experience. Prior to joining Cambridge Associates, she worked at FIS Group as an international equity manager and research analyst responsible for identifying and managing investment strategies, with an emphasis on diverse-owned asset managers. Richards holds an MBA from the University of Chicago Booth School of Business, where she concentrated in finance, accounting, and strategic management. While there, Richards also studied emerging markets at the University of Witwatersrand in Johannesburg, South Africa. She attended the Massachusetts Institute of Technology and the New York Institute of Technology for her undergraduate education. She is a member of the CFA Institute and the CFA Society of Boston
This program is FREE, but advance registration is required. Registered guests will receive the Zoom link prior to the program.
Admission to the Museum's virtual lecture series events is FREE. However, we appreciate contributions of any amount to support these programs. To donate, text "GIVEMOAF" to 44-321.