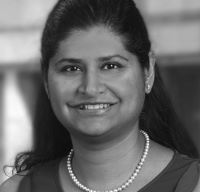 Thursday, April 15, 2021 | 12:00 PM to 1:00 PM
Environmental, social and governance (ESG) data matters. Without clearer insight into the financial benefits of corporate sustainability efforts, they may never be scaled up in the face of climate change, COVID-19, inequality and many other perceived or real challenges to a company's bottom line. Join us for a fireside chat featuring Neha Coulon, global head of ESG solutions at JPMorgan Chase & Co., in an interview with Donna Rapaccioli, dean of the Fordham University Gabelli School of Business.
About the Speaker
Neha Coulon is the global head of ESG solutions at JPMorgan. She leads the firm's efforts in enhancing sustainability-related client engagements and partners across business lines to improve the firm's ESG-themed product offerings. Prior to this role, Coulon was head of Europe, Middle East and Africa region (EMEA) capital strategies, sustainable finance at JPMorgan, where she led corporate sustainability initiatives, including engagement with European Union policymakers, industry leaders and key clients focused on sustainability. She was instrumental in the firm's announcement of a comprehensive sustainability platform, including a $200 billion sustainable development goals-linked financing commitment and a plan to be 100% reliant on renewables for the firm's operational footprint by 2020.
She is a member of the advisory board for the climate risk certification for the Global Association of Risk Professionals. She was also a member of the UK Green Finance Initiative and the UK-China Green Belt and Road Investor Alliance. Coulon is a guest lecturer at the MBA program at the University of Sussex and was previously a guest lecturer at the Operational Research and Financial Engineering program at Princeton University. Prior to her career in sustainability, Coulon was a vice president in JPMorgan's Corporate and Investment Bank in London and New York, where she structured algorithmic trading strategies and managed the sales relationships with some of the world's largest institutional investors.
She began her career in Singapore, executing mergers and acquisitions and devising corporate strategy for Toll Holdings, an Australian logistics company. Coulon holds a Bachelor of Science degree in electrical and computer engineering from Carnegie Mellon University, a master's degree in finance from Princeton University and an MBA from Oxford University.
This program is FREE, but advance registration is required. Registered guests will receive the Zoom link prior to the program.
Admission to the Museum's virtual lecture series events is FREE. However, we appreciate contributions of any amount to support these programs. To donate, text "GIVEMOAF" to 44-321.