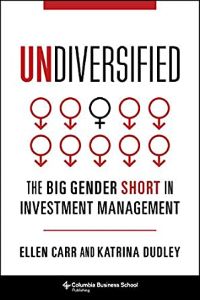 Thursday, April 15, 2021 | 5:30 PM to 6:30 PM
How have women succeeded in investment management? Katrina Dudley, co-author of Undiversified: The Big Gender Short in Investment Management, will moderate a panel of successful female portfolio managers to highlight some of the brightest stars of the "constellation" of women investors profiled in the book.
About the Speakers
Melissa Casson, director of global equities at Black Creek Investment Management Inc., has more than eight years of investment experience, including at Sanford Bernstein as a senior research associate covering consumer staples and, most recently, at OppenheimerFunds as a senior research analyst covering international equities. She has an MBA from Columbia Business School, where she participated in the value investing program, and she has both a Bachelor of Life Sciences and a Bachelor of Commerce degree from Queen's University.
Monica Erickson joined DoubleLine's Global Developed Credit Group in 2009. She is head of investment grade within the group and participates in DoubleLine's fixed income asset allocation committee. Prior to DoubleLine, Erickson was a vice president in the corporate bond group at TCW, where she was involved in the management of the firm's corporate credit fixed-income and structured products. Before TCW, Erickson was a vice president at Froley, Revy Investment Company for more than 15 years, active in managing several convertible strategies. She holds a BS in business, summa cum laude, from the University of Southern California. She is the current chair of the charter recognition committee for the CFA Society of Los Angeles and serves on the educational committee of 100 Women in Finance.
Katie Koch is co-head of the Fundamental Equity (FE) business within Goldman Sachs Asset Management (GSAM). FE manages a broad range of equity portfolios on behalf of institutional and individual clients around the world. Koch is co-chair of GSAM's Sustainability Council and is also an investment champion for Launch with GS, Goldman Sachs' $500 million commitment to invest in companies and investment managers with diverse leadership. In 2015, Koch was honored as a Young Global Leader by the World Economic Forum. She has also been named as one of the Top Women in Asset Management by Money Management Executive and to the Financial Times HERoes list, which recognizes champions of women in business.
Katrina Dudley is a senior vice president, investment strategist, and portfolio manager at Franklin Mutual Series, a deep-value investment manager founded in 1949, part of New York Stock Exchange-listed Franklin Resources Inc. Prior to joining Mutual Series, Dudley worked at Federated Investors Inc. and Ernst & Young LLP. Dudley has a passion for advocating for women in investment management. She is the author of the introduction to the Vault Career Guide to Mutual Funds, and her upcoming book, co-authored with Carr, Undiversified: The Big Gender Short in Investment Management, will be published in spring 2021. She is a member of the AEI Leadership Network, a guest lecturer at the Columbia Business School, and a frequent market commentator on Bloomberg and CNBC.
This program is FREE, but advance registration is required. Registered guests will receive the Zoom link prior to the program.
Admission to the Museum's virtual lecture series events is FREE. However, we appreciate contributions of any amount to support these programs. To donate, text "GIVEMOAF" to 44-321.