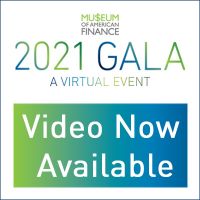 Monday, February 22, 2021 | 5:30 PM to 7:00 PM
5:30pm: VIP Reception
6:00pm: Gala Program
The Museum of American Finance will honor the achievements of financial leaders in both the public and private sectors with two important awards at its 2021 Gala. This year's Gala will be held virtually with CNBC On-Air Stocks Editor Bob Pisani and "WealthTrack" Executive Producer and Managing Editor Consuelo Mack serving as masters of ceremony.
Roger W. Ferguson, Jr. will receive the Whitehead Award for Distinguished Public Service and Financial Leadership. This award honors leaders whose contributions in the public and private arena strengthen society and the profile of the financial industry. Ferguson is president and CEO of TIAA, the leading provider of retirement services in the academic, research, medical and cultural fields and a Fortune 100 financial services organization. He is the former vice chairman of the Board of Governors of the US Federal Reserve System. As the only governor in Washington, DC on 9/11, he led the Fed's initial response to the terrorist attacks, taking actions that kept the US financial system functioning while reassuring the global financial community that the US economy would not be paralyzed.
Brian Moynihan will receive the 2021 Schwab Award for Financial Innovation. The Schwab Award recognizes individuals who have transformed the financial services industry and demonstrated outstanding achievement in advancing entrepreneurship and free enterprise. As chairman and CEO of Bank of America, Moynihan has innovated and transformed Bank of America despite a very challenging banking environment. Bank of America is now widely recognized as a powerhouse and leader in global diversity and inclusion and philanthropy. Under Moynihan's stewardship, the bank's focus on superior technology represents an essential differentiating factor in propelling Bank of America ahead of the curve.
Download 2021 Gala Materials:
2021 MoAF Gala Invitation
2021 Gala Tickets and Sponsorship Benefits
2021 MoAF Gala Advertising Information
For additional information, please contact Mindy Ross, Director of External Relations, at mross@moaf.org.