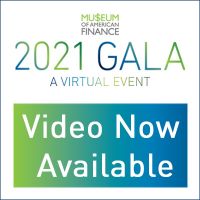 Monday, February 22, 2021 | 5:30 PM to 7:00 PM
The Museum of American Finance honored the achievements of financial leaders in both the public and private sectors with important awards at its 2021 Gala. This year's Gala was held virtually with CNBC On-Air Stocks Editor Bob Pisani and "WealthTrack" Executive Producer and Managing Editor Consuelo Mack serving as masters of ceremony.
Roger W. Ferguson, Jr. received the Whitehead Award for Distinguished Public Service and Financial Leadership. This award honors leaders whose contributions in the public and private arenas strengthen society and the advancement of the financial industry. Mr. Ferguson joined TIAA as President and CEO in 2008 during the height of the global financial crisis, having previously served as the former Vice Chairman of the Board of Governors of the US Federal Reserve System. Under his leadership, TIAA has more than doubled its assets under management to more than $1 trillion, becoming one of the world's top asset managers, and has created innovative guaranteed lifetime income solutions designed to improve retirement outcomes for millions of Americans. Mr. Ferguson is also a proud champion of inclusion and diversity – within the company and for people everywhere. He has campaigned prominently for broad access to financial advice and planning resources, pushed corporate boards to become more diverse and published widely on the impact of systemic inequities on the economy, health and education. Mr. Ferguson was introduced by Jamie Dimon, Chairman & CEO of JPMorgan Chase.
Brian Moynihan received the 2021 Schwab Award for Financial Innovation. The Schwab Award recognizes individuals who have transformed the financial services industry and demonstrated outstanding achievement in advancing entrepreneurship and free enterprise. As Chairman and CEO of Bank of America, Mr. Moynihan has innovated and transformed Bank of America despite a challenging banking environment this past year. Bank of America is now widely recognized as a powerhouse and leader in global diversity and inclusion, along with philanthropy. Under Mr. Moynihan's stewardship, the bank's focus on superior technology represents an essential differentiating factor in propelling Bank of America ahead of the curve. Mr. Moynihan was introduced by Marc Benioff, Chair, CEO and Co-Founder of Salesforce.
There was also a special presentation to New York University Stern School of Business Professor Richard Sylla, recognizing his retirement as the Museum of American Finance Chairman of the Board and his 30 years of distinguished service to the Museum. Professor Sylla was introduced by renowned author and historian Niall Ferguson, who is the Milbank Family Senior Fellow, Hoover Institution, Stanford University.
Download 2021 Gala Materials:
2021 MoAF Gala Journal
2021 MoAF Gala Invitation