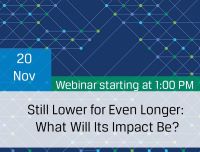 Friday, November 20, 2020 | 1:00 PM to 3:00 PM
Interest rates have been low since the Global Financial Crisis. With COVID-19, they are now even lower and seem unlikely to rise for years from current multi-century lows. How will this impact investors and fixed income markets? How are important fixed-income investors responding to this new paradigm?
This program, presented in partnership with CFA Society New York, will address the following:
What can we expect the path of US interest rates to be over coming years?
How is this impacting insurers that are major fixed income investors?
Can pension funds cope with rates this low in light of their assumed return needs?
Can banks be profitable in a world of near zero interest rates?
What will become of money markets at the zero bound?
Participants include:
Beth Ann Bovino, US Chief Economist, S&P Global Ratings
Peter Crane, President & Publisher, Crane Data
Scott Hildenbrand, Managing Director, Piper Sandler
Sandy Rich, Executive Director, NYC Board of Education Retirement System
Aaron Sarfatti, Chief Risk Officer, Equitable Holdings
Dr. Richard Sylla, NYU Stern School and former Chairman, Museum of American Finance (moderator)
Click here for additional details and to register.