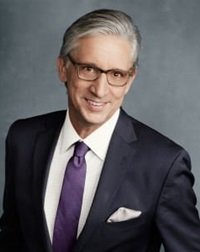 Tuesday, June 16, 2020 | 12:00 PM to 12:45 PM
Veteran CNBC reporter Bob Pisani and "WealthTrack" anchor and executive producer Consuelo Mack discuss what the financial markets may look like in the post-COVID world. Watch event video here.
About Bob Pisani
A CNBC reporter since 1990, Pisani has covered Wall Street and the stock market for nearly 20 years. Pisani covered the real estate market for CNBC from 1990-1995, then moved on to cover corporate management issues before becoming Stocks Correspondent in 1997. In addition to covering the global stock market, he also covers initial public offerings (IPOs), exchange-traded funds (ETFs) and financial market structure for CNBC.
In 2017, Pisani was honored with a Lifetime Achievement Award from the Security Traders Association of New York for "dedication to the Association and the Industry." In 2013, he won third place in the National Headliner Awards in the Business and Consumer Reporting category for his documentary on the diamond business, "The Diamond Rush." In 2014, Pisani was honored with a Recognition Award from the Market Technicians Association for "steadfast efforts to integrate technical analysis into financial decision making, journalism and reporting." In 2010, he received a Webby Award from the International Academy of Digital Arts & Sciences for "Best Business Blog."
About Consuelo Mack (moderator)
Consuelo Mack is the anchor and executive producer of "Consuelo Mack WealthTrack," the only program on television devoted to helping individuals build and protect their wealth over the long-term. Now in its 16th season, "WealthTrack" has been dubbed the "Cramer Antidote" by the press and Money magazine has called Mack "The Best Money TV Host."
Ms. Mack has a long and distinguished career in business journalism including nearly two decades as the anchor and managing editor of "The Wall Street Journal Report," which won the Overseas Press Club and Gracie Awards during her tenure. Among her many honors is the first Lifetime Achievement Prize for Women in Financial Electronic Journalism, given by the Women's Economic Round Table. She has been a member of the Museum's Board of Trustees since 2012.