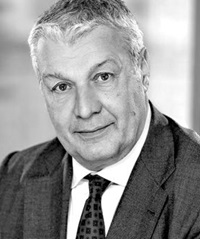 Monday, June 8, 2020 | 12:00 PM to 1:00 PM
Join the Museum of American Finance, the Fordham Gabelli Center for Global Security Analysis and the CFA Society of New York for a moderated conversation with Domenico Siniscalco, managing director and vice chairman at Morgan Stanley, Italian economist and former Italian minister of finance. Siniscalco shares his insights on how economies and financial markets have withstood the impact of COVID-19 and discusses macroeconomic policies countries like Italy can use to navigate the COVID-19 crisis. Watch video here.
About Domenico Siniscalco
Domenico Siniscalco has been managing director and vice chairman at Morgan Stanley since 2006. He is the country head of Italy and head of government coverage for EMEA. From September 2001 to July 2004, Siniscalco was director general of the Italian Treasury; he then became Italian minister of economy and finance from July 2004 to September 2005. In this capacity, he was also a member of the Eurogroup of the European Council of Economy and Finance Ministers, member of the G-7 and G-8, and governor of the IMF. He sits on the Board of HEC (Paris) and has been a Board member of the Grosvenor Group in London, of the Board of Eni, Telecom Italia and other companies. He is chairman of Fondazione Luigi Einaudi (Torino), chairman of the Scientific Advisory Board of Fondazione Eni Enrico Mattei (Milano) and chairman of the Council for the United States and Italy.
Siniscalco developed a successful academic career at Cambridge, Louvain la Neuve, Johns Hopkins and Torino University. For several years he has been one of the lead authors of IPCC (Intergovernmental Panel on Climate Change, winner of the 2007 Nobel Peace Prize) and a member of the Royal Swedish Academy of Sciences, The Beijer Institute. He is author of various academic books and more than 70 research articles in environmental economics, privatizations and structural change. He has been lead-writer of Il Sole 24 Ore and La Stampa. He has a Laurea in Law from University of Torino and a Ph.D. in Economics from Cambridge University.
About Andrea Mennillo (moderator)
Andrea Mennillo holds a BS in business from Federico II University in Naples and a BS in international banking from the University of Lecce. He also is an alumnus of INSEAD Graduate School. He has almost 30 years of leadership experience, mostly in financial institutions and infrastructure funds worldwide.
He has acted as chairman, managing director and board member in banks, insurance companies and financial conglomerates in Italy, Spain, France, Germany, Portugal, the United Kingdom and Switzerland. After Cassa Depositi e Prestiti, where he was appointed by the Ministry of Finance of Italy, he founded IDA Capital, an investment firm that operates in the fastest-growing countries and focuses on business diplomacy.
This program is FREE, but advance registration is required. You will receive the Zoom link upon registration. Click here for details and to register.