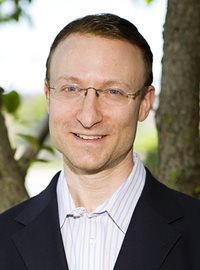 Photo credit: Josh Kuchinsky
Wednesday, March 4, 2020 | 6:00 PM to 8:00 PM
Event Location:
Fordham University – Lincoln Center Campus
140 West 62 Street, McNally Amphitheatre | Ground Floor
Please note: Registration for this event is now closed.
Jim Simons is the greatest money maker in modern financial history. No other investor can touch his record. Since 1988, Renaissance's signature Medallion fund has generated average annual returns of 66%. The firm has earned profits of more than $100 billion; Simons is worth $23 billion.
Drawing on unprecedented access to Simons and dozens of current and former employees, Zuckerman, a veteran Wall Street Journal investigative reporter, tells the gripping story of how a world-class mathematician and former code breaker mastered the market. Simons pioneered a data-driven, algorithmic approach that's sweeping the world. Zuckerman's most recent book, The Man Who Solved the Market, is a portrait of a modern-day Midas who remade markets in his own image, but failed to anticipate how his success would impact his firm and his country. It's also a story of what Simons's revolution means for the rest of us.
About the Author
Gregory Zuckerman is the author of The Greatest Trade Ever and The Frackers, and is a Special Writer at the Wall Street Journal. At the Journal, Zuckerman writes about financial firms, personalities and trades, as well as hedge funds and other investing and business topics. He's a three-time winner of the Gerald Loeb award, the highest honor in business journalism. Zuckerman also appears regularly on CNBC, Fox Business and other networks and radio stations around the globe.
Talk followed by Q&A and reception. General admission $25; MoAF members and press FREE.
Registration opens at 5:30 pm. The first 100 attendees will receive a copy of the book, courtesy of the Fordham University Gabelli Center for Global Security Analysis.