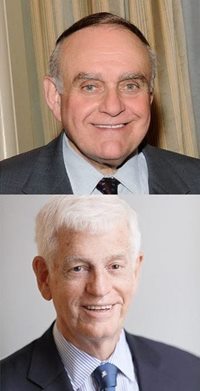 Thursday, May 9, 2019 | 6:00 PM to 8:00 PM
Event Location:
Fordham University – Lincoln Center Campus
140 West 62 Street, McNally Amphitheatre | Ground Floor
Please note: Registration for this event is now closed.
Join the Museum of American Finance and the Fordham Gabelli Center for Global Security Analysis for an evening with Mario Gabelli, chairman and CEO of Gamco Investors Inc., and Leon Cooperman, chairman and CEO of Omega Advisors. Mario Gabelli will engage in a dynamic conversation with his colleague and friend of over 50 years, Leon Cooperman. Following their graduation, Lee and Mario, along with other well-known investors, carpooled together from the Bronx to Wall Street every day. Together, they will explore a range of topics including how they interfaced with one another throughout their careers, share perspectives on optimal capital allocation in today's market, and reveal why their philanthropy prioritizes the education sector.
About Mario Gabelli
Mario J. Gabelli is chairman and CEO of GAMCO Investors, Inc. and LICT Corp. He is executive chairman of Associated Capital Group, Inc. Mr. Gabelli is a summa cum laude graduate of Fordham University and holds an MBA degree from Columbia University Graduate School of Business and honorary doctorate degrees from Roger Williams University and Fordham University. He is a member of the board of overseers of Columbia University Graduate School of Business and the board of trustees of Roger Williams University, and he is a trustee associate of Boston College.
About Leon Cooperman
At the end of 1991, following 25 years of service, Mr. Cooperman retired from his positions as a general partner of Goldman, Sachs & Co. and as chairman and chief executive officer of Goldman Sachs Asset Management to organize and launch an investment-management business, Omega Advisors, Inc., which he ran for 27 years before converting it to a family office at the end of 2018. At its height, Omega Advisors managed more than $10 billion of client funds. At Goldman Sachs, he spent 15 years as a partner. In 1989, he became chairman and CEO of Goldman Sachs Asset Management and chief investment officer of the firm's equity product line, managing the GS Capital Growth Fund. He received his MBA from Columbia Business School and his undergraduate degree from Hunter College. In 2014, Columbia Business School awarded him its Distinguished Leadership in Business Award, and Bloomberg Markets named him to its fourth annual "50 Most Influential" list. He was inducted into the Horatio Alger Association in April 2015.
Conversation followed by reception. General admission $25; MoAF members and press FREE.