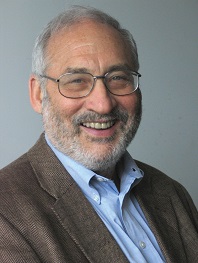 Wednesday, April 24, 2019 | 6:00 PM to 8:00 PM
Event Location:
Fordham University – Lincoln Center Campus
140 West 62 Street, McNally Amphitheatre | Ground Floor
Please note: This event is now sold out.
Nobel Prize-winning economist Joseph E. Stiglitz grew up during the golden age of capitalism in Gary, Indiana, a steel town whose fortunes rose and fell with the waves of industrialization and deindustrialization. But even during Stiglitz's childhood, life didn't seem so golden. He saw inequality, racial discrimination and labor strife all around, and that was when capitalism was thriving and the middle class, ascendant. In the ensuing years things grew far worse. Back in Gary for his 55th high school reunion in 2015, Stiglitz was dismayed by the decrepit state of his hometown and the economic and physical miseries borne by many of his classmates.
What had happened? Stiglitz has long sounded the alarm about growing economic inequality in the United States. As chief economist of the World Bank and Chairman of Clinton's Council of Economic Advisors, he saw first-hand the toll that financial deregulation, globalization and government inaction can take on a community. This has played out over and over again in cities and towns across the United States, feeding into the resentment that fueled Donald Trump's election in 2016. The question we should ask ourselves today, Stiglitz says, is "What can we do about it?"
In his new book, People, Power and Profits: Progressive Capitalism for an Age of Discontent, Stiglitz answers that question by laying out a 21st Century Social Contract to rebuild the American middle class and reinvigorate the American economy. Many candidates will likely use Stiglitz's timely advice in their 2020 presidential campaigns.
Prof. Stiglitz will be interviewed by Bruce Greenwald, the Robert Heilbrunn Professor of Finance and Asset Management at Columbia Business School and the academic co-director of the Heilbrunn Center for Graham & Dodd Investing. Described by The New York Times as "a guru to Wall Street's gurus," Greenwald is an authority on value investing with additional expertise in productivity and the economics of information.
Conversation followed by reception. General admission $25; MoAF members and press FREE.
Doors open at 5:30 pm. The first 125 attendees will receive a copy of the book.