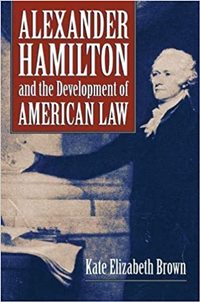 Friday, January 11, 2019 | 12:00 PM to 1:30 PM
Event location:
John Street Methodist Church
44 John Street
New York City
Join us on the anniversary of Alexander Hamilton's birth for a talk with Dr. Kate Elizabeth Brown on her new book, Alexander Hamilton and the Development of American Law. Hamilton is commonly seen as the standard-bearer of an ideology-turned-political party, the Federalists, engaged in a struggle for the soul of the young United States against the Anti-Federalists, and later, the Jeffersonian Republicans. Dr. Brown's book counters such conventional wisdom with a more nuanced view of Hamilton, whose most important influence on the American founding is his legal legacy.
In this analytical biography, Dr. Brown recasts our understanding of Hamilton's political career, his policy achievements, and his significant role in the American founding by considering him first and foremost as a preeminent lawyer who applied law and legal arguments to accomplish his statecraft. Re-examining Hamilton's post-war accomplishments through the lens of law, Dr. Brown demonstrates that Hamilton's much-studied political career, as well as his contributions to republican political science, cannot be fully understood without recognizing and investigating how Hamilton used Anglo-American legal principles to achieve these ends. A critical re-evaluation of Hamilton's legacy, as well as his place in the founding era, her work also enhances and refines our understanding of the nature and history of American jurisprudence.
About the Speaker
Dr. Kate Elizabeth Brown is an assistant professor of history at Western Kentucky University specializing in American legal and constitutional history and the early republic. In addition to her book, Alexander Hamilton and the Development of American Law, she has published articles in the Law and History Review and the Federal History Journal. She has also received numerous fellowships and research grants including a James C. Rees Fellowship from the Fred W. Smith National Library for the Study of George Washington, a Larry J. Hackman Research Residency Grant at the New York State Archives, a Cromwell Senior Research Grant from the American Society of Legal History and a fellowship at the Gilder-Lehrman Institute for American History.
This program is presented in partnership with the Alexander Hamilton Awareness (AHA) Society.
This event is FREE and open to the public. Please note earlier start time than other events in this series.