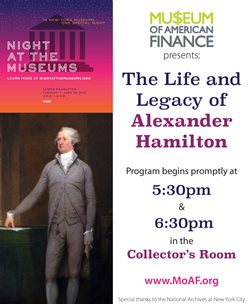 Tuesday, June 19, 2018 | 4:00 PM to 8:00 PM
Event location:
Programs held at various sites throughout Lower Manhattan. Venue information can be found in the press release.
Spend the evening visiting museums and historic sites in Lower Manhattan, where New York's history and culture begin. This annual program is FREE and open to the public, and it takes place rain or shine.
The Museum of American Finance is currently closed, but we invite you to join us for a presentation on "The Life and Legacy of Alexander Hamilton" at 5:30 and 6:30 in the Collector's Room at the National Archives (One Bowling Green).