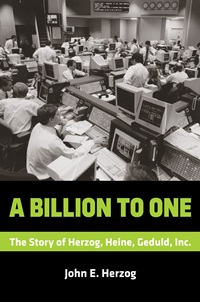 Friday, October 20, 2017 | 12:30 PM to 1:30 PM
The Museum's Founder and Chairman Emeritus, John Herzog, will speak on his new book about the legendary Wall Street firm his family founded.
About the Speaker
John E. Herzog, Chairman Emeritus of Herzog, Heine, Geduld, Inc., joined the firm founded in 1926 by his father in 1959. With Irwin and Buzzy Geduld, he spearheaded its expansion into the third-largest Nasdaq market maker in the country. After the sale of the firm to Merrill Lynch in 2000, John devoted himself to R.M. Smythe & Co., the family auction firm dealing in antique stocks and bonds, bank notes, coins and autographs.
After the stock market crash of 1987, John founded the Museum of American Finance to enhance public understanding of the capital markets. John is a life-long collector of financial memorabilia whose collection has been exhibited many times at the Museum.
This program is supported, in part, by public funds from the New York City Department of Cultural Affairs, in partnership with the City Council.