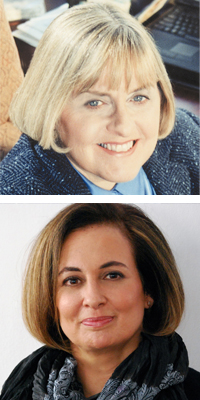 Wednesday, March 8, 2017 | 12:30 PM to 1:30 PM
This timely and lively discussion features Candace Straight, one of the first female investment bankers on Wall Street and the executive producer of the financial thriller "Equity," and Dr. Melissa Fisher, an anthropologist, educator and the author of Wall Street Women, a history of women on Wall Street from the 1950s to the 2000s.
Hear first-hand how the cross-cultural Wall Street "gendered workplace" has influenced the trajectory of women's careers on Wall Street and continues to impact both men and women in the industry. Ms. Straight and Dr. Fisher will also discuss the relevant themes from "Equity" and how these themes demonstrate how far women have come – and how far they still have to go – to reach the top in this male-dominated industry.
This Lunch and Learn, and related mentoring programs, were hosted by the FWA and sponsored by OppenheimerFunds.
About Candace Straight
Candace Straight is a private investor and independent director. She is the Executive Producer of "Equity," the first female-driven Wall Street film with Anna Gunn ("Breaking Bad") playing a senior investment banker threatened by financial scandal. The film premiered at the 2016 Sundance Film Festival and was purchased by Sony Pictures Classics. She is currently a co-producer and raising funds for a new film, "The Pages." In addition to her work in the film industry, Ms. Straight is a director of Neuberger and Berman's mutual funds. She has worked for Bankers Trust, Merck, and Head and Partners, and she has served on numerous corporate and non-profit boards.
About Melissa Fisher
Dr. Melissa S. Fisher is a scholar, author and expert on women in business. As a Visiting Assistant Professor in the Department of Social and Cultural Analysis at New York University, she studies issues of gender, diversity and leadership. Her first book, a co-edited volume, Frontiers of Capital: Ethnographic Reflections on the New Economy (Duke University Press, 2006), explored the social and cultural landscape of business. Her second book, Wall Street Women (Duke University Press, 2012), examines the first generation of women to break glass ceilings in finance (1956-2010). Her latest research is on female entrepreneurs, including women working in FinTech in New York City and Berlin. Dr. Fisher has received many grants and fellowships, including awards from the Alfred Sloan Foundation and the Centre for Organizational Research at Stockholm University.