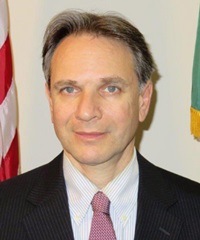 Tuesday, December 6, 2016 | 12:30 PM to 1:30 PM
The Chief Counsel for the Bureau of Engraving and Printing (BEP) discusses the government's fight against counterfeiting. This visual presentation highlights the many little-known security features in the new $100 bill and sheds light on the global issue of counterfeiting US money and what is being done to prevent it.
Mr. Rocke provides legal advice and counsel on a wide range of issues to the BEP, which is the agency that prints billions of dollars a year in US currency. Among his accomplishments at the BEP, Mr. Rocke advised changing the agency's regulations to place the burden of proof on the suspected swindlers, and he drafted regulations requiring them to convince a judge that their mutilated or counterfeit money is real.