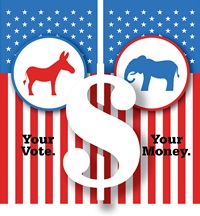 Thursday, October 27, 2016 | 6:00 PM to 8:00 PM
Leaders in financial markets, technology, communications and data analysis explore how the positions and platforms of the presidential candidates drive investors' and voters' financial concerns and how that is reflected in online activity, political polls and the markets.
The program begins with introductory remarks from Consuelo Mack, Executive Producer & Managing Editor of Consuelo Mack WealthTrack, followed by a fireside chat featuring Strategas CEO & Chief Investment Strategist Jason DeSena Trennert and Strategas President & Head of Quantitative Research Nicholas Bohnsack discussing the increased focus on policy – legislative, monetary, regulatory – in the political platforms and its impact on the investment decisions of institutional and individual investors. Strategas, a leading institutional brokerage firm, provides macro research, capital market and corporate advisory services, as well as financial solutions to institutional investors and corporate executives.
A panel discussion follows moderated by Consuelo Mack, whose weekly public television program WealthTrack is devoted to helping Americans build and protect their wealth over the long term. The panelists share their perspectives on tracking investor sentiment through the run-up to the election and analyzing how this translates into investment trends.
Topics include:
- High Anxiety: How this turbulent year in the political and financial arenas is impacting investor sentiment
- Money Flows: Where investors are putting money to work this election cycle
- Search & Sentiment: How investors' online activity translates into market activity and volatility
About the Panel
Consuelo Mack (moderator): Executive Producer and Managing Editor, Consuelo Mack Wealthtrack
Michael McDonough: Chief Economist, Bloomberg Intelligence
Caleb Silver: Vice President for Content, Investopedia
Ali Velshi: Anchor, MSNBC