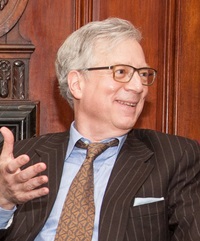 Friday, October 21, 2016 | 12:30 PM to 1:30 PM
Everyone now knows that Ron Chernow's biography of Alexander Hamilton inspired a hit musical on Broadway, but not many know that it also inspired a new national park at the Paterson Great Falls. Hamilton chose the Great Falls — 15 miles west of Manhattan — as the place to begin implementing his ambitious manufacturing plan. He founded Paterson as the world's first city planned from the start to stimulate manufacturing and innovation. In Paterson, people would invent and produce goods that forever changed our relationship with the world: the Colt revolver, locomotives, submarines, aircraft engines and silk. Ron Chernow called Paterson the "city of the future."
At the same time that Hamilton founded Paterson, he submitted to the Congress his Report on Manufactures, a comprehensive tariff and manufacturing strategy to make in our nation all essential goods. This talk will reveal:
—how Hamilton got the Congress to pass his tariff package, and why that fact had eluded many distinguished historians for 200 years;
—how Hamilton made immigration and economic opportunity cornerstones of his manufacturing plan; and
—how the Report on Manufactures gave a sneak preview of Paterson, and how Hamilton intended the Report and Paterson to help secure America's economic independence from foreign powers.
About the Speaker
Leonard Zax is a lawyer and a city planner. As a partner in the law firm Latham & Watkins he took on a pro bono cause: creating a national park in his hometown of Paterson, NJ. Leonard wrote the legislation and testified before Congress to establish the Paterson Great Falls National Historical Park. William Paterson University awarded him an honorary Doctor of Humane Letters for "dedication to the founding ideals of the City of Paterson and to the realization of those ideals for a better quality of life for its citizens." Leonard now works full time to enhance the benefits of the new national park for the city, the state and the nation as the president of the Hamilton Partnership.