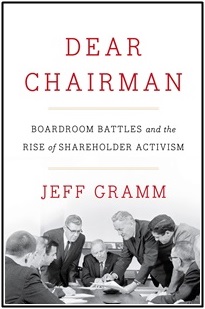 Tuesday, July 12, 2016 | 12:30 PM to 1:30 PM
Recent disputes between shareholders and major corporations, including Apple and DuPont, have made headlines. But the struggle between management and those who own stock has been going on for nearly a century. Mixing never-before-published and rare, original letters from Wall Street icons—including Benjamin Graham, Warren Buffett, Ross Perot, Carl Icahn and Daniel Loeb—with masterful scholarship and professional insight, Dear Chairman traces the rise in shareholder activism from the 1920s to today, and provides an invaluable and unprecedented perspective on what it means to be a public company, including how they work and who is really in control.
Dear Chairman is a colorful and insightful history of shareholder activism that been described as "a grand story" and an "illuminating read" by the Wall Street Journal and "a revelation" by the Financial Times. Charles Schwab wrote about Dear Chairman, "It should be required reading for anyone who wants to participate in our great ownership system, as investor or manager."
About the Author
Jeff Gramm manages a hedge fund and teaches value investing at Columbia Business School. He has served on several public company boards of directors.
Talk will be followed by Q&A and book signing. $5 tickets include Museum admission; members and students free. Feel free to bring your lunch.