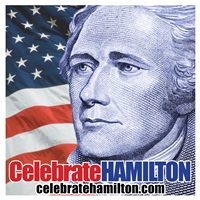 Monday, July 11, 2016 | 12:00 PM to 9:00 PM
The fifth annual CelebrateHAMILTON program, a series of events about Alexander Hamilton's life presented by the Alexander Hamilton Awareness Society, begins on July 6 and runs through July 17. There are over 30 events planned in New York and New Jersey as part of this year's program, including a series of events on July 11, the anniversary of the Hamilton-Burr duel.
In the afternoon of July 11, you can learn more about Alexander Hamilton and Aaron Burr's rivalry in the courtroom in a free talk on "Colleagues, Friends, and Frenemies: Hamilton and the New York Bar." (12 pm, National Archives at New York City, Alexander Hamilton US Custom House). In the evening, there will be the traditional remembrance event with Hamilton descendants in Weehawken, New Jersey, overlooking the original dueling grounds (6 pm, Hamilton Memorial, Hamilton Ave., Weehawken, NJ), followed by a free talk by author Thomas Fleming on "Honor: The Key to Understanding Alexander Hamilton's Life - And Death" (7:30 pm, Elks Lodge, Weehawken, NJ).
For details on the July 11 events and all 10 days of programming, visit celebratehamilton.com.