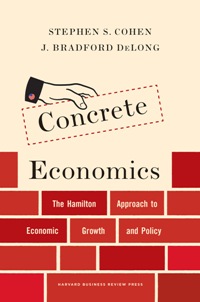 Tuesday, May 10, 2016 | 12:30 PM to 1:30 PM
Little in politics is as hotly debated as how we can energize America's economy, create jobs and provide a better life for our citizens. In a new book, eminent economist Stephen S. Cohen argues that the answer to this struggle won't be found on the Left or the Right, but in the Past.
In Concrete Economics, Cohen writes that in order to make America great again, our economic policy needs more government direction and regulation. He (along with his co-author, J. Bradford DeLong) show how—starting with the brilliant, all-encompassing strategy of Alexander Hamilton—government plotted the route of the economy in deliberate, concrete and specific ways. One could tell exactly what the results of these changes would be before making a commitment to them. Then government let entrepreneurs fill in the gaps, opening up new areas of trade or innovation, and ultimately taking the economy precisely where the government wanted it to go.
In this talk, Cohen takes us through the centuries from Hamilton to Eisenhower, to the decades when the process fell apart—the 1970s and 1980s. He show how the American-Asian trade relationship laid the damaging groundwork for our continued economic troubles; how the excessive financialization of our economy is only going to lead to more trouble; and how the government, established companies and new ventures can partner to yet again successfully reshape the economy in healthy and constructive ways.
About the Speaker
Stephen S. Cohen is Professor Emeritus of City and Regional Planning at the University of California at Berkeley, where he is also co-director and co-founder of the Berkeley Roundtable on the International Economy (BRIE). He has written and edited several books, including The End of Influence with J. Bradford DeLong, and his articles have appeared in such publications as Science, Foreign Affairs, Harvard Business Review and the Wall Street Journal.
Talk will be followed by Q&A and book signing. $5 tickets include Museum admission; members and students free. Feel free to bring your lunch.