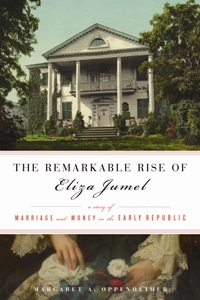 Tuesday, January 26, 2016 | 12:30 PM to 1:30 PM
Eliza Jumel was born in poverty in Providence, Rhode Island, but died one of the richest women in New York. Along the way, she acquired a fortune from her first husband, a French merchant, and nearly lost it to her second, the notorious Aaron Burr. After divorcing him amid lurid accusations of adultery, she lived on for another 30 years, astutely managing her property and public persona. After her death, a titanic battle over her estate went all the way to the United States Supreme Court—twice. Now she is the subject of a legend-busting biography, Margaret Oppenheimer's The Remarkable Rise of Eliza Jumel: A Story of Marriage and Money in the Early Republic.
In her talk, Oppenheimer will focus on the clash between Jumel and Burr—each determined to achieve financial security and willing to do anything to attain it. Their marriage soon became a battleground, culminating in a legal duel that Eliza won. The program will feature previously unknown details about Jumel's life, Burr's finances and the marriage of this wily pair.
About the Speaker
Margaret A. Oppenheimer holds a PhD in art history from New York University's Institute of Fine Arts. She is the author of The French Portrait: Revolution to Restoration, as well as articles in Apollo, the Metropolitan Museum Journal, The Magazine Antiques and other publications. She volunteers as a docent at New York's Morris-Jumel Mansion, Eliza Jumel's former home.
Talk will be followed by Q&A and book signing. $5 tickets include Museum admission; members and students free. Feel free to bring your lunch.