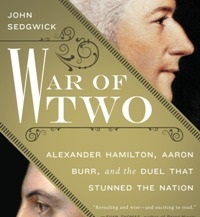 Tuesday, December 15, 2015 | 12:30 PM to 1:30 PM
In July 1804, on a bluff overlooking the Hudson River, Vice President Aaron Burr and Founding Father Alexander Hamilton squared off at 10 paces, raised their pistols and fired. Within hours, one would be dead, the other destined to live the remainder of his days a reviled fugitive from the law. What could possibly have compelled two such political titans to put everything at risk?
War of Two is journalist and historian John Sedgwick's acute exploration of this hugely influential historical event; its tumultuous, highly fractious era; and the complex relationship between two charismatic men whose divergent politics, minds and worldviews belied innumerable parallels in aspiration, character and style. It is also a taut narrative that traces the dramatic events themselves, including Burr's astonishing plan -- as a hunted man wanted for murder -- to arm a militia, seize control of the American west and install himself as its emperor.
About the Author
John Sedgwick is the author of 11 books and more than 500 magazine articles for publications such as Atlantic Monthly, GQ, Newsweek and Esquire. He has covered Mike Tyson, George W. Bush and the murder-suicide of Charles Stuart, and he was nominated for a National Magazine Award for a story on the country's finest non-profit organizations.