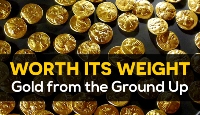 Thursday, November 19, 2015 | 6:00 PM to 8:00 PM
Please join us for a reception and remarks to open "Worth Its Weight: Gold from the Ground Up." This exhibit will captivate visitors with the many spectacular and unexpected ways gold has influenced our lives – from science and technology to entertainment and pop culture to finance and economics. The exhibit will feature more than 100 unique and rare objects from more than 40 public and private collections including the Smithsonian Institution, the Tiffany & Co. Archives and Tellus Science Museum, as well as the work of jewelry designer Marla Aaron and world renowned jewelry artist Sidney Mobell, who transforms everyday items into dazzling gold and jeweled artworks.
This event is free for Museum members and the press, or $15 for non-members. Advance registration is required.
Please note: This event is sold out.