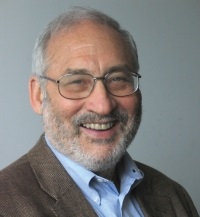 Photo by Dan Deitch
Tuesday, April 21, 2015 | 5:30 PM to 7:00 PM
Nobel Prize-winning economist, best-selling author and Columbia University professor Joseph Stiglitz discusses his new book, The Great Divide: Unequal Societies and What We Can Do About Them, in an interview with Myron Kandel, Founding Financial Editor of CNN.
A call to restore true democracy and tempered markets, The Great Divide makes an urgent case for Americans to solve inequality now. A singular voice of reason in an era defined by bitter politics and economic uncertainty, Stiglitz has time and again diagnosed America's greatest economic challenges, from the Great Recession and its feeble recovery to the yawning gap between the rich and the poor. The Great Divide gathers his most provocative reflections on the subject of inequality, probing for answers to the greatest threat to American prosperity and explaining its role in the country's ongoing malaise.
As Stiglitz ably argues, a healthy economy and a fairer democracy are within our grasp, if we can put aside misguided interests and abandon failed policies. Opening with the essay that gave the Occupy Movement its slogan, "We are the 99%," later essays in The Great Divide reveal equality of opportunity as a national myth and explain reforms that would spur higher growth, more opportunity and greater equality.