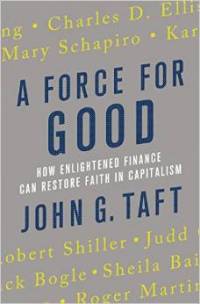 Wednesday, March 18, 2015 | 5:30 PM to 7:00 PM
After the crisis of 2008, the social contract between the financial industry and everyone else was badly broken — perhaps, it seemed, irrevocably. Since then, banks have paid out billion-dollar settlements and Congress has passed some new laws, but a deeper rapprochement is still missing. In A Force for Good, John Taft has gathered some of the greatest financial minds of our time to explore how Wall Street can harness the same creative energy that invented credit default swaps and channel it towards the public good— in the form of a stable retirement system, investment strategies that protect the environment and reward responsible corporate behavior, and a financial industry with a culture of ethics, integrity and client focus. These perspectives, from a who's who of leaders in the field, offer a blueprint for a new kind of responsible finance that secures the future for everyone. Contributors to the book include Robert Shiller, Charles Ellis, Sheila Bair, John Bogle, Mary Schapiro, Judd Gregg, Barbara Novick and David Blood.
Panelists Include:
Charles Ellis, Founder of Greenwich Associates
Barbara Novick, Vice Chairman of BlackRock
John Rogers, Former President and CEO of CFA Institute
John Taft, CEO of RBC Wealth Management U.S.
Panel discussion will be moderated by Dr. Richard Sylla.