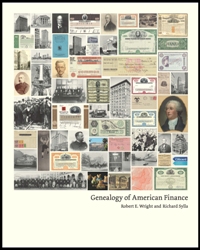 Tuesday, March 10, 2015 | 5:30 PM to 7:00 PM
Join the Museum and Columbia Business School Publishing for a talk and reception to celebrate the launch of the Museum's new book, Genealogy of American Finance, by Robert E. Wright and Richard Sylla.
About the Book
In this unique, gorgeously illustrated book, readers learn how 50 financial corporations came to dominate the US banking system and their impact on the nation's political, social and economic growth. A story that spans more than two centuries of war, crisis and opportunity, this account reminds readers that American banking was never a fixed enterprise but has evolved in tandem with the country.
More than 225 years have passed since Alexander Hamilton created one of the nation's first commercial banks. Over time, these institutions have changed hands, names and locations, reflecting a wave of mergers, acquisitions and other restructuring efforts that echo changes in American finance. Some names, such as Bank of America and Wells Fargo, will be familiar to readers. Others, including Zions Bancorporation, founded by Brigham Young and owned by the Mormon Church until 1960, surprise with their origins. Exploring why some banks failed and others thrived, this book wonders, in light of the 2008 financial crisis, whether recent consolidations have reached or even exceeded economically rational limits. A key text for navigating the complex terrain of American finance, this volume draws a fascinating family tree for projecting the future of a nation.
About the Authors
Robert E. Wright became the inaugural Nef Family Chair of Political Economy at Augustana College in Sioux Falls, South Dakota, after teaching at New York University, the University of Virginia and elsewhere. He is the author, coauthor, editor or co-editor of more than 20 major scholarly books and projects related to US financial and policy history.
Richard Sylla is the Henry Kaufman Professor of the History of Financial Institutions and Markets and Professor of Economics at New York University. He is also Chairman of the Board of Trustees at the Museum of American Finance and a research associate of the National Bureau of Economic Research.