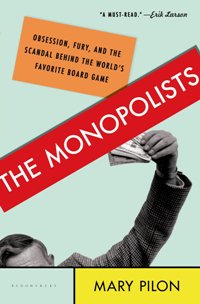 Tuesday, February 24, 2015 | 12:30 PM to 1:30 PM
In The Monopolists: Obsession, Fury and the Scandal Behind the World's Favorite Board Game (Bloomsbury, February 17, 2015), award-winning journalist Mary Pilon reveals the unknown story of how Monopoly came into existence, the reinvention of its history, the lost female originator of the game and one man's lifelong obsession to tell the true story about the game's questionable origins. A remarkable social history of corporate greed that illuminates the cutthroat nature of American business over the last century, the story told in The Monopolists parallels the game itself: winners, losers, controversial moves and obsession.
Mary Pilon has worked as a sports reporter at The New York Times and as a staff reporter at the Wall Street Journal. In 2011, she was named one of Forbes magazine's "30 Under 30" for media.