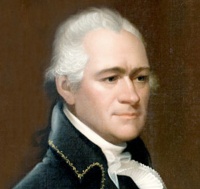 Friday, January 9, 2015 | 12:00 PM to 4:00 PM
12:00 pm: Bring your lunch to this conversation with Museum Founder John Herzog and AHA Society Chair Mariana Oller, as they discuss Mr. Herzog's historical financial document collection and introduce the current Museum exhibit, "Alexander Hamilton: Indispensable Founder and Visionary." Program will be followed by a cake-cutting at 12:45 in honor of Hamilton's birthday.
2:00 pm: Pooja Nair, Esq. will present "A Bar Fight that Changed America," a talk on the Rutgers v. Waddington trial and the legal precedent that Hamilton's arguments established. This led to the recovery of Manhattan shortly after Evacuation Day and to the nation's independence from England.
After both talks, docents from the AHA Society will be available in the Hamilton Room to answer questions about the exhibit, as well Hamilton's life and legacy.
For a full list of events in honor of Alexander Hamilton's birthday, visit AHA's website.