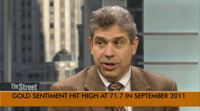 Friday, June 13, 2014 | 12:30 PM to 1:30 PM
There were political parties that fought for silver to remain monetized in the United States in the 19th century. Learn what their arguments were and why they ultimately failed. Was it only political, or did global market fundamentals drive the decision?
Miguel Perez-Santalla is a precious metals market professional and formerly a Vice President at BullionVault, the largest internet-based online gold and silver exchange. He has more than 30 years of experience in the precious metals industry. Prior to joining BullionVault, Miguel was best known for his work at Heraeus, a multi-national precious metals company, as vice president of marketing for its New York Trading operations.
Miguel is frequently quoted by the media including the Wall Street Journal, Bloomberg and Reuters, among many other prominent news outlets representing BullionVault and the precious metals industry. He has also appeared as a guest speaker on CNBC-TV, Bloomberg TV, TheStreet and Hard Asset Investor.com.
Miguel is known for his witty and enjoyable presentations. He has presented at the International Precious Metals Institute's annual conference, US Geological Survey, The American Association of Individual Investors Conference and at other prestigious venues. He is currently a board member of the New York Chapter of the International Precious Metals Institute. He also has been blogging for many years, and his thoughts about the precious metals markets and life can be accessed on BullionVault.com/Analysis. He is also the host for an online radio show about the financial markets called BullionVault's New York Markets Live.