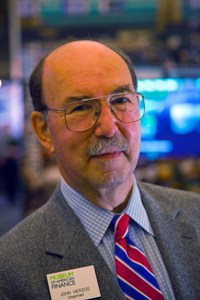 Wednesday, May 7, 2014 | 12:30 PM to 1:30 PM
Join us for a lunchtime event with Museum founder John Herzog on the trading of securities, liquidation of paper assets and notable certificates of the historic Penn Central bankruptcy.
Mr. Herzog is the Museum's founder and Chairman Emeritus. He is also Chairman Emeritus of Spink/Smythe, an auction house specializing in antique stocks and bonds, banknotes, coins, autographs and photographs. He has collected financial memorabilia for more than 40 years, with a particular interest in American Revolutionary bonds and other 18th century documents, and has donated much of his personal collection to the Museum. Formerly he was Chairman and Chief Executive Officer of Herzog Heine Geduld, Inc.
Talk will be followed by Q&A. $5 tickets include Museum admission. Museum members and students are admitted free. Feel free to bring your lunch.