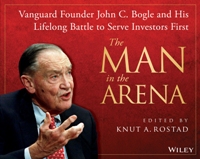 Wednesday, March 26, 2014 | 12:30 PM to 1:30 PM
Join us for a lunchtime event with Knut A. Rostad, editor of The Man in the Arena, a new book which highlights the legacy of Vanguard founder John C. Bogle and features classic essays on Vanguard, indexing, the mutual fund industry and the fiduciary ideal. Mr. Bogle will attend the event and will offer remarks after the presentation.
Bogle's legacy is multifaceted. At its core are great business innovations and commercial success that disrupted the investment industry and benefited tens of millions of ordinary investors. Still, the scope of this disruption and the impact of Vanguard and indexing are not fully understood. Rostad includes voices of observers from all walks of life who have witnessed the Bogle journey -- from a Vanguard landscaping worker to President Bill Clinton and industry luminaries Warren Buffet and Paul Volcker -- and notes "The relationship between Jack Bogle and and his country is one that few in the nation's service ever know."
Knut Rostad is the founder and president of the Institute for the Fiduciary Standard, a non-profit organization that advances fiduciary principles through research, education and advocacy.
Talk will be followed by Q&A and book signing. $5 tickets may be purchased online or at the door and include Museum admission. Museum members and students are admitted free of charge. Feel free to bring your lunch. Register online, or contact Tempris Small at tsmall@moaf.org for more information.