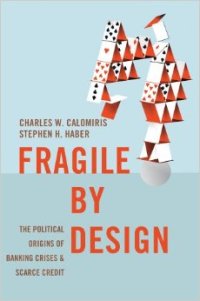 Friday, March 7, 2014 | 12:30 PM to 1:30 PM
Fragile by Design is a revealing exploration of the ways that politics inevitably intrudes into bank regulation. Co-authors Charles Calomiris and Stephen Haber combine political history and economics to examine how coalitions of politicians, bankers and other interest groups form, why some endure while others are undermined and how they generate policies that determine who gets to be a banker, who has access to credit and who pays for bank bailouts and rescues.
About the Speaker
Charles W. Calomiris is the Henry Kaufman Professor of Financial Institutions at Columbia Business School and a professor at Columbia's School of International and Public Affairs. His many books include US Bank Deregulation in Historical Perspective.
Talk will be followed by Q&A and book signing. $5 tickets may be purchased online or at the door and include Museum admission. Museum members and students are admitted free of charge. Feel free to bring your lunch. Register online, or contact Tempris Small at tsmall@moaf.org for more information.