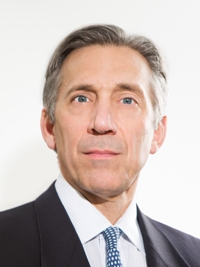 Tuesday, January 28, 2014 | 6:00 PM to 7:30 PM
Financial journalist Consuelo Mack interviews Eric Grubman, Executive Vice President of the NFL and President of NFL Ventures, on "The Business of the NFL" at this Super Bowl week event.
About Eric Grubman
Eric Grubman is an Executive Vice President of the National Football League and the President of NFL Ventures Inc. He joined the NFL in May 2004 and has served as Chief Financial Officer and the senior manager of business operations during his tenure. Mr. Grubman is a former partner of Goldman, Sachs & Company and a former co-president of Constellation Energy Group, a Fortune 500 company located in Baltimore. He is a graduate of the United States Naval Academy and the Harvard Business School. His Active Duty was in submarines. He is a director on the board of Noble Energy Inc., serving on the Audit Committee and the Corporate Governance Committee. He also serves on the board of the United States Naval Academy Foundation.
About Consuelo Mack
Consuelo Mack has had a long and distinguished career in business journalism. In 2005 she struck out on her own to launch her dream program, a weekly half-hour program on public television devoted to helping Americans build and protect their wealth over the long-term. Now in its ninth season, "Consuelo Mack WealthTrack" has been dubbed the "Cramer Antidote" by the press, and Money magazine named Mack "The Best Money TV Host." "WealthTrack" is the only television program devoted to long-term diversified investing in stocks, bonds, real estate, insurance, art and collectibles.