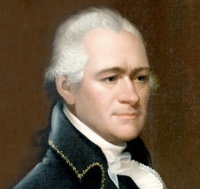 Friday, January 10, 2014 | 4:30 PM to 5:00 PM
The Museum of American Finance, in conjunction with the Alexander Hamilton Awareness Society, is hosting a commemorative birthday celebration for Alexander Hamilton at the Museum on Friday afternoon.
Born on January 11, 1757 on the island of Nevis, Alexander Hamilton would emigrate to New York City and later become the first US Secretary of the Treasury. To honor the connection the two locations share, both the Museum of American Finance and the Alexander Hamilton Museum in Nevis will be linked via a video network connection.
This year, the Hon. Vance Amory, Premier of Nevis, will be in attendance at the Museum of American Finance while on the Nevis side Prime Minister Douglas of St. Kitts and Nevis will briefly speak. This event will be followed by a candlelight processional to Alexander Hamilton's grave at Trinity Church for a nighttime illumination.
For a full list of events on January 10th and 11th in honor of Alexander Hamilton's birthday, visit https://www.smore.com/jddf.