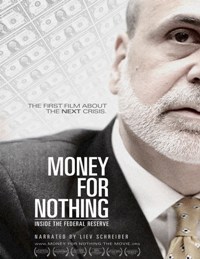 Wednesday, December 4, 2013 | 5:30 PM to 7:30 PM
Join us for a screening of the new documentary film, "Money for Nothing: Inside the Federal Reserve," followed by a Q&A with producer/director Jim Bruce and economic historian Dr. Richard Sylla.
100 years after its creation, the power of the Federal Reserve has never been greater. Markets around the world hold their breath in anticipation of the Fed Chairman's every word. Yet the average American knows very little about the most powerful financial institution on earth. Narrated by acclaimed actor Liev Schreiber, "Money For Nothing: Inside The Federal Reserve" is the first film to take viewers inside America's central bank and reveal the impact of Fed policies – past, present and future – on our lives. As Ben Bernanke's tumultuous tenure comes to a close, join Paul Volcker, Janet Yellen and many of the world's best financial minds as they debate the decisions that led the global economy to the brink of collapse and ask whether we might be headed there again.
Please note: This event is sold out.