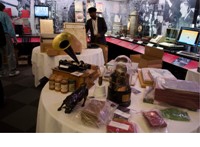 Thursday, October 17, 2013 | 12:00 PM to Saturday, October 19, 2013 3:00 PM
The annual Wall Street Coin, Currency and Collectibles Show, the "Romance of Wall Street," and the 2013 Anniversary Celebration of Important Global Companies will take place at the Museum from October 17 through 19, 2013. Admission to the Museum is FREE throughout the event.
At the Show, where finance meets history, approximately 30 dealers will be trading, selling and telling stories about their coins, stock certificates, paper money, medals, autographs and other numismatic items. Aficionados of financial memorabilia can visit the Show and view the Museum's exhibitions at the same time. A live auction will take place.
Show hours:
Thursday, October 17, from 12pm – 7pm
Friday, October 18, from 10am – 4pm
Saturday, October 19, from 10am – 3pm
For more information, visit www.wallstreetbourse.com or call 203-292-6819.