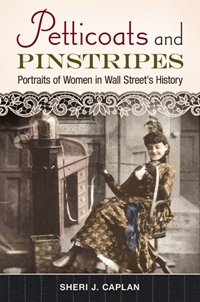 Wednesday, October 2, 2013 | 12:30 PM to 1:30 PM
Women have helped shape America's financial affairs since before the nation's founding, but no book until now has traced their contributions and put them in historical perspective. In Petticoats and Pinstripes, Sheri J. Caplan presents this previously untold story through biographical essays about selected women from the colonial period to modern times. Talk will be followed by Q&A and book signing.
$5 tickets may be purchased online or at the door and include Museum admission. Museum members are admitted free of charge. Feel free to bring your lunch. For information call 212-908-4110 or e-mail info@moaf.org.