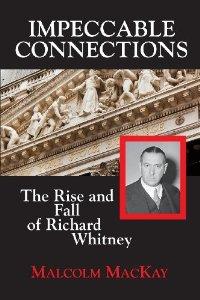 Wednesday, June 26, 2013 | 12:30 PM to 1:30 PM
In Impeccable Connections: The Rise and Fall of Richard Whitney, Malcolm MacKay traces the fascinating trajectory of a Massachusetts Brahmin who was president of the New York Stock Exchange in the early 1930s. The book is both a biography of an important figure and an excellent primer on the reasons for securities regulations that are in today's headlines.
About the Speaker
Malcolm MacKay is a lawyer and businessman who, as a boy and young man, knew Richard Whitney in his post-prison years. He has thought about Whitney, and why he did what he did, all his life. Author and co-author of several local histories, MacKay has contributed to the New York Times Magazine and Business Week. A graduate of Princeton University and Harvard Law School, he lives in Brooklyn, NY.