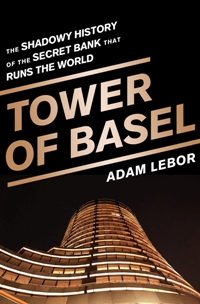 Tuesday, June 4, 2013 | 12:30 PM to 1:30 PM
Economist correspondent Adam LeBor offers the first, never-before-told history of the Bank for International Settlements in Basel, known as the BIS. It is a legally inviolable bank, protected by international treaty, whose assets can never be seized. Created by a group of bankers including JP Morgan, Montagu Norman and Hjalmar Schacht in 1930, it played an unusual role in World War II under American President Thomas McKittrick. It was instrumental in the creation of the Euro and plays a significant role in monetary policy across the world.
About the Speaker
Adam LeBor is an author, journalist and literary critic based in Budapest. He writes for the Economist, The Times (London), Monocle and numerous other publications, and also reviews for The New York Times and the Financial Times. He has been a foreign correspondent since 1991, covering the collapse of Communism and the Yugoslav wars, and has worked in more than 30 countries. He is the author of seven non-fiction books, including the ground-breaking Hitler's Secret Bankers and City of Oranges, and two novels.