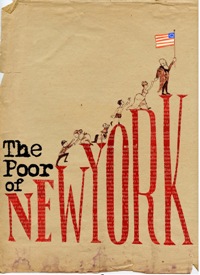 Tuesday, April 9, 2013 | 5:30 PM to 7:30 PM
Bitingly relevant and radically entertaining, this lost American classic powerfully dramatizes the world's first global financial crisis, the New York Panic of 1857. Casting an uncompromising eye on characters from every strata of society, from Park Avenue privilege to Dickensian squalor, the play follows the intertwining fates of diverse New Yorkers struggling with the social chaos and ensuing drama of a city thrown into financial peril.
Mixing riotous humor, visceral emotion and political potency, this production reinvigorates the vibrant, but neglected, tradition of American melodrama. This is a New York story with global resonance that speaks to the most pressing concerns of our age.
"The Poor of New York" will be performed at The Connelly Theatre, a 19th-century opera house in the East Village, from April 24 – 27, 2013. Join us for an exclusive preview of this production at the Museum of American Finance on April 9, where the cast will present an unstaged version of the play created specifically for the Museum, accompanied by brief remarks on the 1857 financial panic by Museum President David Cowen. Directed by Tyne Rafaeli and produced in association with Columbia Stages.
Presentation will be followed by reception. Reservations required. Admission is free for Museum members, $10 for students with valid ID or $15 for the general public. For additional information, please contact Tempris Small at 212-908-4110 or tsmall@moaf.org.