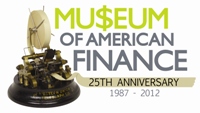 Friday, October 19, 2012 | 12:30 PM to 4:00 PM
This invitation-only thought leadership symposium, to be held on the 25th anniversary of both the Crash of 1987 and the Museum's founding, aims to generate meaningful discussion amongst senior level financial executives and industry association leaders on solutions for re-establishing the financial industry's credibility among the investing public.
The format of the speaking program will be one-on-one interviews, with prominent journalists interviewing three thought leaders. Following the interviews, attendees will discuss the proposed solutions at pre-arranged tables moderated by designated participants.*
Keynote interviews with:
John C. Bogle, Founder, The Vanguard Group
Roger W. Ferguson, Jr., President and Chief Executive Officer, TIAA-CREF
Duncan L. Niederauer, Chief Executive Officer, NYSE Euronext
Featured journalists include:
Maria Bartiromo, Anchor, CNBC's "Closing Bell with Maria Bartiromo"
Consuelo Mack, Anchor and Executive Producer, Public Television's "Consuelo Mack WealthTrack"
Jason Zweig, Personal Finance Columnist, The Wall Street Journal
Event Program
12:30 pm: Commemoration of the Museum's founding (Museum exhibit hall, 48 Wall Street)
1:00 pm: Participants proceed across the street to NYSE
1:15 pm: Keynote interviews and luncheon in the NYSE Board Room
3:00 pm: Table discussions
3:30 pm: Participants proceed to NYSE floor
4:00 pm: Closing bell ceremony
Reservations required. Invitees should RSVP by October 9 to Museum President/CEO David Cowen at dcowen@moaf.org or Deputy Director Kristin Aguilera at kaguilera@moaf.org.
*We invite questions and topics in advance for the keynote interviews and table discussions. Please indicate your proposed question or issue in your RSVP.