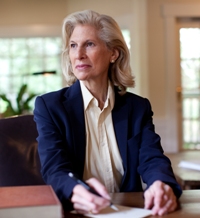 Photo credit: Vance Jacobs 2012
Thursday, October 11, 2012 | 5:30 PM to 7:00 PM
No woman in the Gilded Age made as much money as Hetty Green. At the time of her death in 1916, she was worth at least $100 million, equal to more than $2 billion today. A strong believer in women being financially independent, she offered valuable lessons for the present times.
About the Author
Janet Wallach is the author of eight books and has written extensively about the Middle East. Her book, Desert Queen: The Extraordinary Life of Gertrude Bell (Nan A. Talese/Doubleday,1996), has been translated into 12 languages and was a New York Times notable book of the year. As a frequent contributor to he Washington Post Magazine from 1982-1987, and as a contributor to Smithsonian Magazine and other periodicals, Janet Wallach has written cover story profiles of Queen Noor of Jordan, First Lady of Egypt Jihan Sadat, Iraqi Ambassador Nizar Hamdoon, Reza Pahlavi, would-be Shah of Iran, and Saudi entrepreneur Adnan Khashoggi.
Ms. Wallach is a Woodrow Wilson Institute Visiting Fellow and has taught at Bradford College, Earlham College, Longwood College, Ohio Wesleyan University, Stetson College, St. Olaf's College, Susquehanna College and West Virginia Wesleyan College. She has appeared as a guest commentator on various television programs for the Cable News Network, A&E "Biography," MSNBC, National Geographic, and network talk shows as well as on BBC and C-Span "Booknotes." She co-hosted a nationally-syndicated program, "Private Lives, Public People" on the Lifetime cable network.
Presentation will be followed by Q&A, book signing and reception. Reservations required. Admission is free for Museum members, or $15 for non-members. For additional information, please contact Tempris Small at 212-908-4110 or tsmall@moaf.org.