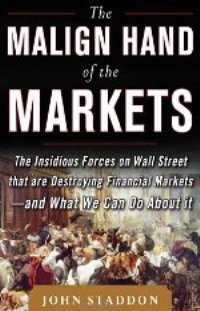 Wednesday, October 3, 2012 | 12:30 PM to 1:30 PM
Even after the global financial meltdown of 2008, economists have clung to Adam Smith's "Invisible Hand" theory of an always self-regulating market that benefits private and public interests alike. But Duke University professor John Staddon says there's also another, darker force at work on Wall Street—a "Malign Hand" that guides all human interactions, including our finances. Combining psychology, behavioral economics and other sciences, Staddon's explosive new theory reveals the underlying principles behind the economic crisis, exposing the invisible mechanisms that drive our markets today.
About the Speaker
John Staddon is James B. Duke Professor of Psychology, and Professor of Biology and Neurobiology, Emeritus, at Duke University. He is a Faculty Affiliate at the John Locke Foundation and Honorary Visiting Professor at the University of York (UK). He earned his undergraduate degree from University College, London and his Ph.D. in Experimental Psychology from Harvard. He has worked in many universities around the world, is a fellow of several scientific organizations, has edited two research journals and been associate or sub-editor on several others. Mr. Staddon has published more than 200 research papers and six books, including The Malign Hand of the Markets (2012, McGraw-Hill), The New Behaviorism: Mind, Mechanism and Society (Psychology Press, 2001) and Adaptive Dynamics: The Theoretical Analysis of Behavior (MIT/Bradford, 2001).
$5 tickets may be purchased at the door and include admission to the Museum. Feel free to bring your lunch. For information call 212-908-4110 or e-mail info@moaf.org.